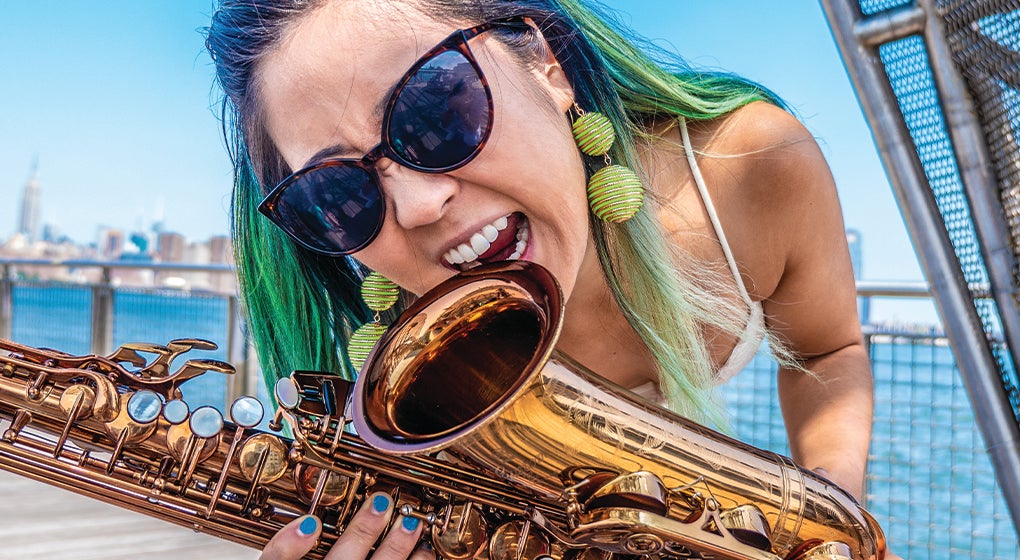 Niswonger Performing Arts Center
Sep 23 , 2022
Grace Kelly: Van Wert Night of Jazz!
Friday, September 23 @ 7:30 PM
Ticket prices from $15-45
PUBLIC ON SALE: 7/1/22
Van Wert Live announces a night of Jazz featuring Grace Kelly presented by Chuck and Karen Koch, Mark and Michelle White, and Koch And White Law on Friday, September 23 at 7:30 PM at The Niswonger Performing Arts Center. Grace Kelly is ready to spread good musical vibes with her 'Good To See You Again Tour'. She will be bringing her spunky saxophone playing across North America and will make a stop in Van Wert! Grace Kelly is a ray of sunshine. Her electric charisma and infectious positivity radiate from the stage. Her genre-bending style weaves in jazz, funk, and singer-songwriter elements, pushing her to the forefront of the fusion scene. Grace's powerful saxophone playing, heartfelt vocals, and dynamic dance moves have left audiences smiling, dancing, and in emotional tears.
Be uplifted by her beautiful tone and fast fingers. Grace Kelly also lends her sweet vocal stylings to some numbers, making for an entire musical package and a diverse experience! Grace believes music is a powerful medium that can inspire, heal, and connect us all. She'll be performing music from her new album, which was inspired by works relating to the theme of courage from great female authors such as Maya Angelou. Get ready for a night that will lift your spirit and leave you wanting more!
"Grace Kelly has an electric charisma on-stage that instantly ignites the room." - Jon Batiste, Grammy and Academy Award Winning Artist and The Bandleader for The Late Show with Stephen Colbert.
ALL TICKET SALES ARE FINAL. There are no exchanges or refunds unless the rare event of a cancelation. For canceled events, no action is required to receive your refund. Refunds will be processed to the original method of payment used at time of purchase.
Performance Schedule

Friday, September 23, 2022 7:30 PM Cal +

Parking

Immediate access parking is FREE at the Niswonger. Lots are located to the North and South of the venue. Handicap parking is available to the East of the facility immediately outside of the main entrance.

Accessibility

All areas of the Niswonger and certain seating areas are accessible by wheelchair. Please notify the Box Office (419-238-NPAC) at the time of ticket purchase so that a platform for companion seating is reserved. Please ask the ushers for assistance to be seated. All entrances from the parking lots have ramps and are at sidewalk level. A wheelchair-accessible elevator serves both levels of the Niswonger providing both the lower and upper lobby and auditorium. All restroom facilities offer handicap accessibility and a larger family restroom is available on the upper lobby level. There are a limited number of handicap accessible parking spaces available in the front of the facility and in both the North and South campus parking lots. These are available on a first-come, first-serve basis. The Niswonger also has assisted listening devices provided by the Van Wert Service Club. Please contact the Box Office for details: 419-238-NPAC.

Alert the Facilities Manager of any special considerations. The Niswonger Staff is ready to assist with entry to and from the show. Please contact the Box Office in advance at 419-238-6722 or facilities@npacvw.org.

Group Sales

Advanced event ticketing, a 10% discount and a driver comp ticket are available for groups of 10 or more. Arrangements must be made through Jerry Beard, Box Office Manager, 419-238-6722 or boxoffice@npacvw.org.

Electronic Devices & Camera Policy

Please or silence all electronic devices when the house lights go down for the performance. We welcome you to access social media to share your experience during intermission or after the performance. The use of cameras, audio recording devices and video recording devices is prohibited at performances at the INB PAC. The use of professional lenses and flash photography is strictly prohibited. Flash photography may distract the performer and cause injury.

Age Restrictions

There are no age restrictions for this family show. Children three and under are granted admission without a ticket so long as they are held by an adult ticket-holder. The VWAPAF reserves the right to preclude the attendance of children under the age of 5 years determined by the nature of the performance. Guardians will be asked to remove their child/children if they cause disruptions for other ticket-holders during a performance.