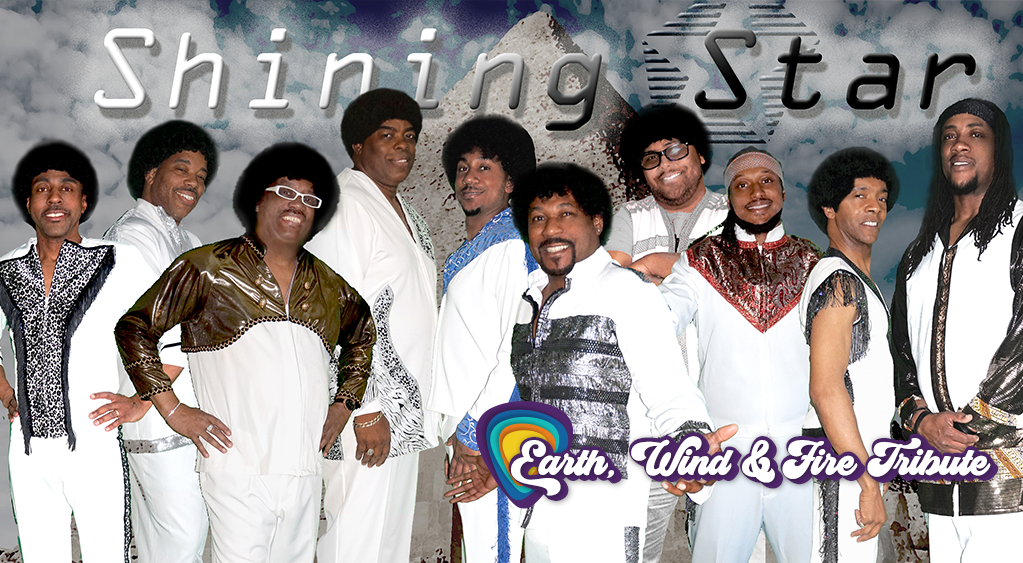 Fountain Park
Jul 09 , 2021
Feel Good Friday - Shining Star
FREE CONCERT AT FOUNTAIN PARK
SHINING STAR is an amazing recreation of the band, the legends, the Rock and Roll Hall of Fame inductees, and one of the greatest musical groups in history, EARTH, WIND AND FIRE. This timeless musical recreation of Earth, Wind & Fire's music and show is based on the 1970's thru 1980's, the peak time of Earth, Wind & Fire's magical career, and the highly acclaimed live recordings of their concerts. This show's playlist has been hailed as the definitive collection of Earth, Wind & Fire's top charting hits, and includes best loved songs such as After The Love Is Gone, Sing A Song, September, Got To Get You Into My Life, their name sake "Shining Star", along with disco tracks, Boogie Wonderland, and Let's Groove Tonight. This show is the closest and ONLY production to embody the aura, costuming, moves, and vocalization styles of this super group. The magic, the versatility, the vocals, the essence, the songs, the energy, the horns, and the spirit . . . Ladies & Gentleman, SHINING STAR, A Musical Tribute to EARTH, WIND & FIRE!
"Shining Star played to a sold-out house at Freedom Hall and promptly validated why they are the premiere Earth, Wind, and Fire tribute band in the nation! Impeccable replication of the fabulous EWF sound, tasteful period-costumes, and smooth choreography made the show look and sound like an actual EWF concert. Our audience had a wonderful experience that evening and hoped to see them again!" Charles Sabey, Freedom Hall, Chicago, Illinois
"This band has such amazing energy. The entire crowd was up on its feet from start to finish, dancing and having a great time!" Holly Marshall, Metropolis PAC, Arlington Heights Illinois
"WOW..... Shining Star! That was a great show!!! They nailed it!! Very pleasant and easy going! That's what I like!" Cheryl DeKam, Grand Falls Casino, Sioux Falls, Iowa.
FREE Entertainment is underwritten exclusively by the Van Wert County Foundation. Feel Good Fridays at Fountain Park are programmed by Van Wert LIVE events, keeping your spirits high and keeping you feeling fine.
Performance Schedule

Friday, July 9, 2021 7:30 PM Cal +