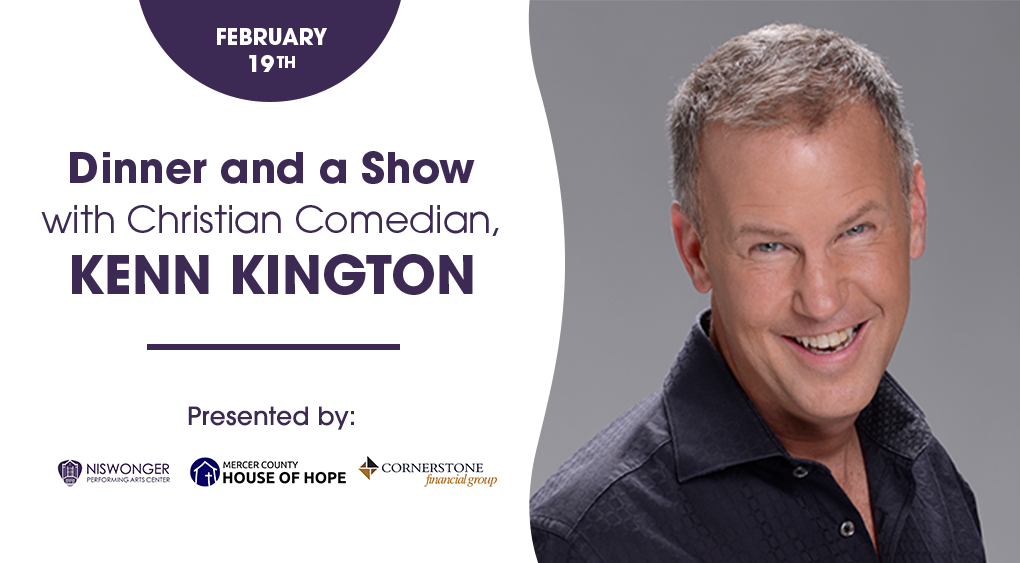 Niswonger Performing Arts Center
Feb 19 , 2022
KENN KINGTON A House Of Hope Event
A HOUSE OF HOPE FUNDRAISING EVENT
BUY WILLOW BEND DINNER TICKETS
Kenn Kington is a Christian Comedian who brings a unique brand of clean comedy without any blushing or cringing - just life in its funniest form. Kenn is one of the most played comics on XM Radio and has a brand new special, Enjoying Chaos, on Dry Bar Comedy. Throughout his comedy career, he has had six comedy specials that have aired on multiple cable networks nationally over the past few decades, including Comedy Central. Get a glimpse of what all the hype is about, check out his YouTube channel. Kenn has a knack for entertaining, encouraging and inspiring those in the audience. He will leave you with more hope, clarity and motivation to be your best self.
The Mercer County House of Hope is thrilled to partner with Niswonger Performing Arts Center and Cornerstone Financial Group. The Mercer County House of Hope strives to offer those in Mercer County an opportunity to lead those with addiction to a pathway to long-term, whole-life transformation. With two recovery homes available to Mercer County residents, the non-profit organization can give the residents' support groups, the ability to live on their own, understanding of how to live a joyful, sober life, and so much more.
DINNER & A SHOW: A Dinner at Willow Bend Country Club for $25 completes the evening. Ten dollars of each purchased dinner will be donated to House Of Hope. Dinner will be served from 5:00 pm-7:00 pm.
To become a sponsor and to receive sponsorship perks, please contact Angie McLaughlin at 423-619-4116 or Jenny Snider at 419-733-0016.
---
ALL TICKET SALES ARE FINAL. There are no exchanges or refunds unless the rare event of a cancelation. For canceled events, no action is required to receive your refund. Refunds will be processed to the original method of payment used at time of purchase.
Performance Schedule

Saturday, February 19, 2022 7:30 PM Cal +

Parking

Immediate access parking is FREE at the Niswonger. Lots are located to the North and South of the venue. Handicap parking is available to the East of the facility immediately outside of the main entrance.

Accessibility

All areas of the Niswonger and certain seating areas are accessible by wheelchair. Please notify the Box Office (419-238-NPAC) at the time of ticket purchase so that a platform for companion seating is reserved. Please ask the ushers for assistance to be seated. All entrances from the parking lots have ramps and are at sidewalk level. A wheelchair-accessible elevator serves both levels of the Niswonger providing both the lower and upper lobby and auditorium. All restroom facilities offer handicap accessibility and a larger family restroom is available on the upper lobby level. There are a limited number of handicap accessible parking spaces available in the front of the facility and in both the North and South campus parking lots. These are available on a first-come, first-serve basis. The Niswonger also has assisted listening devices provided by the Van Wert Service Club. Please contact the Box Office for details: 419-238-NPAC.

Alert the Facilities Manager of any special considerations. The Niswonger Staff is ready to assist with entry to and from the show. Please contact the Box Office in advance at 419-238-6722 or facilities@npacvw.org.

Group Sales

Advanced event ticketing, a 10% discount and a driver comp ticket are available for groups of 10 or more. Arrangements must be made through Jerry Beard, Box Office Manager, 419-238-6722 or boxoffice@npacvw.org.

Electronic Devices & Camera Policy

Please or silence all electronic devices when the house lights go down for the performance. We welcome you to access social media to share your experience during intermission or after the performance. The use of cameras, audio recording devices and video recording devices is prohibited at performances at the INB PAC. The use of professional lenses and flash photography is strictly prohibited. Flash photography may distract the performer and cause injury.

Age Restrictions

There are no age restrictions for this family show. Children three and under are granted admission without a ticket so long as they are held by an adult ticket-holder. The VWAPAF reserves the right to preclude the attendance of children under the age of 5 years determined by the nature of the performance. Guardians will be asked to remove their child/children if they cause disruptions for other ticket-holders during a performance.