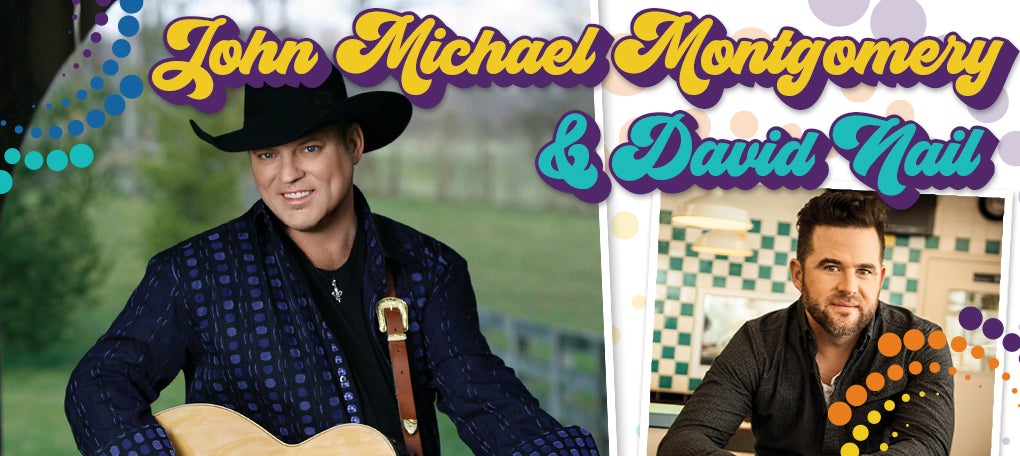 Niswonger Performing Arts Center
Jan 22 , 2021
John Michael Montgomery @ The Grandstand
Van Wert LIVE events are attended at the risk of the attendee. Van Wert LIVE is not liable for risk of exposure to viruses. Please adhere to the Van Wert LIVE Safety Guidelines and stay safely entertained.
Tickets go on sale July 16, 2020.
Country Hit Makers, John Michael Montgomery and David Nail will set the night on fire at the Van Wert County Fair Grandstand on September 5. This LIVE entertainment experience is presented by Jim and Mary Pope and supporting sponsor, Van Wert Health.
Headliner John Michael Montgomery has had more than 30 singles on the Billboard country charts from ten studio albums, of which seven songs reached number one: "I Love the Way You Love Me", "I Swear", "Be My Baby Tonight", "If You've Got Love", "I Can Love You Like That", "Sold (The Grundy County Auction Incident)", and "The Little Girl." Thirteen more have reached the top ten. Several of Montgomery's singles crossed over to the Billboard Hot 100, his highest peak there having been achieved by "Letters from Home" in 2004.
Opener David Nail is known for his agile voice, a gift for songwriting, and a passionate performing style. Nail has a foot in both the country and pop worlds. His R&B-flavored voice merges vocal pop with contemporary country sounds, offering a throwback to the "countrypolitan" style of the 1960s. It's the launching point for his intricate arrangements and sincere lyrics heard in songs like "Red Light", "Whatever She's Got", "Let It Rain (feat. Sarah Buxton)", "Kiss You Tonight", "Turning Home" and "The Sound of a Million Dreams."
Ticket Information
TIX: $25 - $65
Tickets are available in any increment.
An order is referred to as a "Fan Pod."
Social distancing is provided around each order.
Fan Pod orders of 10 or more will receive a 20% discount.
The Ticketing Process
It's easy but looks a bit different. To provide social distancing standards, patrons will select a section and number of seats. A confirmation of the specific seats assigned to the order will then be shared after the order is placed. These new ticket buying practices are a way to extend a live entertainment experience in a safe environment.
Social Safety
Van Wert Live coordinates events with the approval of the Van Wert Health Department. Patron safety is paramount. Social distancing between family units or fan pods will be observed. Facemasks are optional. Hand sanitizer is encouraged and sanitizing stations will available throughout the Grandstand.
THE VAN WERT COUNTY FAIR GATE PASS IS NOT INCLUDED IN TICKET PRICE. PURCHASE THE BIG$RICH BUNDLE THAT INCLUDES CHOICE OF SEATING CONCERT TICKET AND $7 GATE PASS FOR YOUR CONVENIENCE.
This is a Rain or Shine Event. No Refunds for inclement weather or event cancellation.
Performance Schedule

Friday, January 22, 2021 7:30 PM Cal +

Parking

Immediate access parking is FREE at the Niswonger. Lots are located to the North and South of the venue. Handicap parking is available to the East of the facility immediately outside of the main entrance.

Accessibility

All areas of the Niswonger and certain seating areas are accessible by wheelchair. Please notify the Box Office (419-238-NPAC) at the time of ticket purchase so that a platform for companion seating is reserved. Please ask the ushers for assistance to be seated. All entrances from the parking lots have ramps and are at sidewalk level. A wheelchair-accessible elevator serves both levels of the Niswonger providing both the lower and upper lobby and auditorium. All restroom facilities offer handicap accessibility and a larger family restroom is available on the upper lobby level. There are a limited number of handicap accessible parking spaces available in the front of the facility and in both the North and South campus parking lots. These are available on a first-come, first-serve basis. The Niswonger also has assisted listening devices provided by the Van Wert Service Club. Please contact the Box Office for details: 419-238-NPAC.

Alert the Facilities Manager of any special considerations. The Niswonger Staff is ready to assist with entry to and from the show. Please contact the Box Office in advance at 419-238-6722 or [email protected].

Group Sales

Advanced event ticketing, a 10% discount and a driver comp ticket are available for groups of 10 or more. Arrangements must be made through Jerry Beard, Box Office Manager, 419-238-6722 or [email protected].

Electronic Devices & Camera Policy

Please or silence all electronic devices when the house lights go down for the performance. We welcome you to access social media to share your experience during intermission or after the performance. The use of cameras, audio recording devices and video recording devices is prohibited at performances at the INB PAC. The use of professional lenses and flash photography is strictly prohibited. Flash photography may distract the performer and cause injury.

Age Restrictions

There are no age restrictions for this family show. Children three and under are granted admission without a ticket so long as they are held by an adult ticket-holder. The VWAPAF reserves the right to preclude the attendance of children under the age of 5 years determined by the nature of the performance. Guardians will be asked to remove their child/children if they cause disruptions for other ticket-holders during a performance.