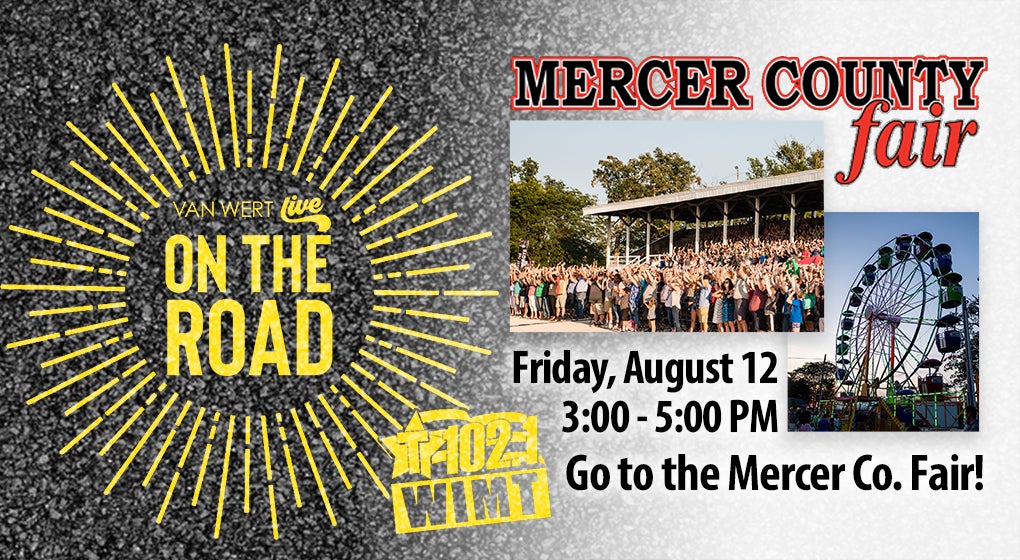 Niswonger Performing Arts Center
Aug 12 , 2022
On The Road – Nashville Giveaway – Mercer County Fair
This summer, Van Wert LIVE in partnership with T102 brings to the region news of ENTERTAINMENT at all Van Wert LIVE venues this year with prizes in store.
Radio personalities from T102 join the Van Wert LIVE team with live remotes and a chance to win a trip to Nashville, Tennessee. *Must be 18 years or older to enter.

The big winner will receive a Nashville trip including three nights of accommodations at the Sheraton Grand Nashville Downtown and choice of two tickets to over 30 attractions including Country Music Hall of Fame and Museum, Nashville Zoo, Adventure Science Center, Ryman Auditorium, and many other Nashville destinations.
"On The Road" live remotes with T102 include the following stops:
June 3, 5-7pm Fountain Park Music Pavilion during Peony Festival

June 16, 11am-1pm Lee Kinstles GM Sales & Service

July 14, 11am-1pm Eugene Bagley Alley with The Van Wert County Foundation

August 12, 3-5pm Mercer County Fair
Anyone has a chance to win by visiting vanwertlive.com and entering any of the "On The Road" event pages. Giveaways happening at all remotes. Winner will be announced on Monday, August 15, 2022.
Performance Schedule

Friday, August 12, 2022 3:00 PM Cal +

Parking

Immediate access parking is FREE at the Niswonger. Lots are located to the North and South of the venue. Handicap parking is available to the East of the facility immediately outside of the main entrance.

Accessibility

All areas of the Niswonger and certain seating areas are accessible by wheelchair. Please notify the Box Office (419-238-NPAC) at the time of ticket purchase so that a platform for companion seating is reserved. Please ask the ushers for assistance to be seated. All entrances from the parking lots have ramps and are at sidewalk level. A wheelchair-accessible elevator serves both levels of the Niswonger providing both the lower and upper lobby and auditorium. All restroom facilities offer handicap accessibility and a larger family restroom is available on the upper lobby level. There are a limited number of handicap accessible parking spaces available in the front of the facility and in both the North and South campus parking lots. These are available on a first-come, first-serve basis. The Niswonger also has assisted listening devices provided by the Van Wert Service Club. Please contact the Box Office for details: 419-238-NPAC.

Alert the Facilities Manager of any special considerations. The Niswonger Staff is ready to assist with entry to and from the show. Please contact the Box Office in advance at 419-238-6722 or facilities@npacvw.org.

Group Sales

Advanced event ticketing, a 10% discount and a driver comp ticket are available for groups of 10 or more. Arrangements must be made through Jerry Beard, Box Office Manager, 419-238-6722 or boxoffice@npacvw.org.

Electronic Devices & Camera Policy

Please or silence all electronic devices when the house lights go down for the performance. We welcome you to access social media to share your experience during intermission or after the performance. The use of cameras, audio recording devices and video recording devices is prohibited at performances at the INB PAC. The use of professional lenses and flash photography is strictly prohibited. Flash photography may distract the performer and cause injury.

Age Restrictions

There are no age restrictions for this family show. Children three and under are granted admission without a ticket so long as they are held by an adult ticket-holder. The VWAPAF reserves the right to preclude the attendance of children under the age of 5 years determined by the nature of the performance. Guardians will be asked to remove their child/children if they cause disruptions for other ticket-holders during a performance.