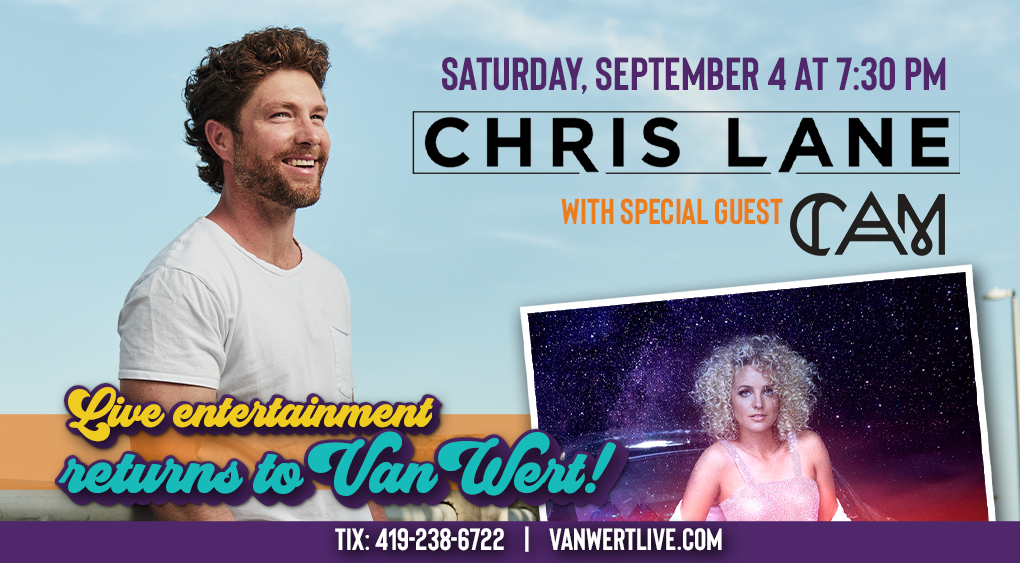 May 04 , 2021
Chart Topper Chris Lane to Headline Grandstand Concert
by Tafi Stober
Just who is this chart-topping Country artist who was selected by Van Wert Live to headline the Van Wert County Fair Concert at the Grandstand on September 4?
Chris Lane climbed to number one Country radio with "Big, Big Plans." The romantic tune is his third chart-topping single on Billboard's Country Airplay chart, after "I Don't Know About You" in 2019, "Take Back Home Girl" in 2017 and "Fix" in 2016. What followed in 2021 was the release of "Fill Them Boots" and now this week's release "Summer Job Money." The hits just keep coming. He's on the rise and he will soon be on his way to Van Wert. Tickets go on sale to Members on Friday, May 7. General Public sales begin on May 14. More ticketing information is available at vanwertlive.com or 419-238-6722.

Chris Lane shares a bit of himself in his new release "Summer Job Money." The song reflects on summer romance when he was 17, he would've blown all his summer job money on her. Lane worked for his Father's landscaping company in Kernersville, NC. An avid athlete, he went on to play college baseball at the University of NC-Charlotte. Sidelined by injury, he picked up a guitar, signed a record deal and moved to Nashville.

"I've always loved nostalgic Country songs that take you back to a certain time and place," shares Lane. "When I first heard 'Summer Job Money,' it immediately gave me that same kind of feeling. I worked a landscaping job up until the very moment I signed my record deal, so I related to the song and knew I wanted to record it. I'm pumped to share it, and hope y'all have a blast singing it when we get out there to play it live!"

This isn't the first song that is personal for Chris Lane. "Big, Big Plans" was written as a proposal to his wife, Lauren Bushnell. "As an artist the most rewarding thing for me is writing a song and hearing fans sing it back, and make it part of their own story as well," Lane said in a statement. "It's been so much fun to see the way such a personal song for me has impacted other people over time. From proposing to my wife, to seeing others' proposals at shows and on social media, to it now hitting #1 on country radio is unbelievable. I couldn't be more excited."
Lauren Bushnell, winner of the 20th Season of The Bachelor, married Chris Lane in October 2019 in Nashville. They shared a wedding video featuring the song a month later (Watch It Here.) The Lanes are expecting their first child in early June.
If returning to live entertainment wasn't enough, the opportunity for Chris Lane along with artist Cam to light up our music city will be a moment to savor. We hope to share the experience with you at The Grandstand!