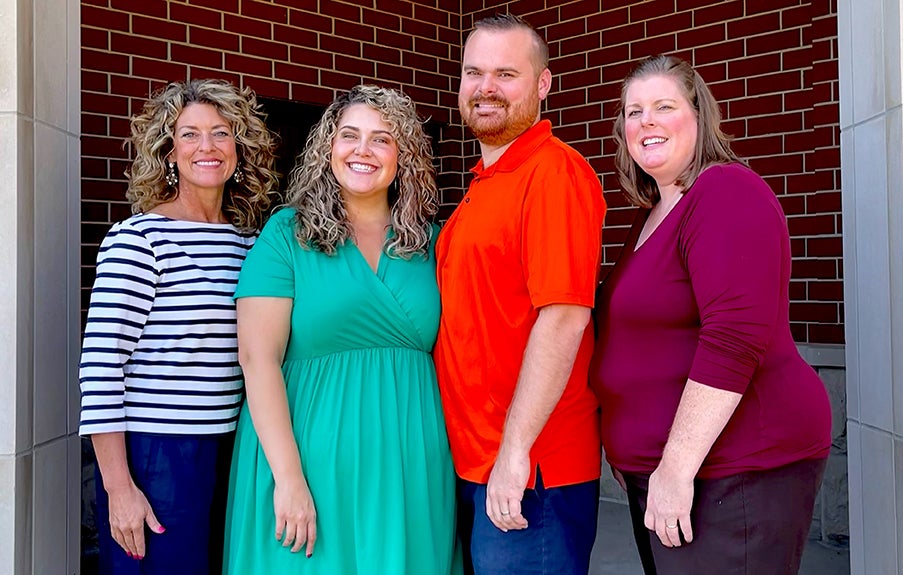 Sep 30 , 2021
Dynamic Developments In The Van Wert Live Marketing Department
(Van Wert, OH) - The Van Wert Area Performing Arts Foundation (VWAPAF), is pleased to announce new appointments and advancements within the Marketing Department of the organization that presents Van Wert Live events at the Niswonger Performing Arts Center, The Grandstand, and Fountain Park.
"We are excited to be blessed to have an excellent staff and have successfully recruited some new talented individuals that will contribute to the continued success in our mission to provide our patrons with entertainment that makes them want to come back again and again. Our new staff members are talented and dedicated individuals, and we are ecstatic to have them on board," lends VWAPAF Chairman Kevin Laing.
Creative genius, Weston Thompson is supercharging visuals as the Creative + Media Director. Weston manages all graphic design and media communications as part of the three-member strong Marketing Department. He ensures that event information for each Van Wert Live venue gains exposure throughout the region using a diverse portfolio of marketing mediums.
Amy McGovern adds power to the Marketing Department as the Box Office Director. Amy brings a wealth of professional experience to the team in working with people in various capacities. She will direct Ticketing Services that lend customers access to touchless digital ticketing and convenient print-at-home options. Amy will have the pleasure of working alongside Jerry Beard, the seasoned Ticketing Services Specialist, to ensure the patron ticketing experience exceeds expectations. Also part of Amy's focus is consumer and web analytics that help guide the Marketing Strategy designed by the Marketing Director.
Quincy Thompson advances to Marketing Director from her role as Box Office Director.
"Quincy's innate marketing savvy coupled with her experience working within the operation and the industry made Quincy the perfect candidate for this vital role," shares Executive Director, Tafi Stober. "She is a proven professional who goes the distance to uphold our mission to make entertainment experiences so good that they demand a return."
Quincy will lead the Marketing Department and direct all strategies and creatives as Van Wert Live continues to grow in its vision to make Van Wert an Entertainment Destination.
Presently a roster of events has been released for 2021 with more shows to be announced. Dynamic programming continues as national and international touring artists are contracted out as far as 2023 with flexible openings for immediate drop-ins. More information regarding upcoming events can be found at vanwertlive.com.
The Van Wert Area Performing Arts Foundation presenting Van Wert Live events is powered by The Van Wert County Foundation. The Van Wert Live HQ is located within the opulent Niswonger Performing Arts Center at 10700 SR 118 South, Van Wert, Ohio.
*Photo: Pictured: Tafi Stober, Executive Director; Quincy Thompson, Marketing Director; Weston Thompson, Creatives + Media Director; Amy McGovern, Box Office Director