Reza: Edge Of Illusion Tour Direct From Branson To Van Wert
On October 28 at 7:30 p.m. something mysterious this way comes! Industry insiders are saying that Reza is the "top touring illusionist in the world"! Reza is recognized as one of today's most highly sought-after entertainers in the touring illusion industry, delivering innovative, engaging, and spectacular performances worldwide. Direct from Branson to Van Wert, our audience can prepare to be on the edge of their seat for this mind-blowing experience.
The Chicago Tribune exclaims, "It's like a rock concert meets a magic show!" Don't expect rabbits out of hats! Reza's unique brand of illusion has landed him appearances on popular reality shows across 31 countries worldwide, including A&E's Duck Dynasty and The CW's Penn & Teller: Fool Us. More than a magic show, Reza infuses concert-level production, masterful comedic timing, and countless interactive moments for Branson's #1 family show!
The parents reviews are in from Trip Advisor and are overwhelmingly positive about the direct-from-Branson show.
"AMAZING, COMEDY, MAGICAL...ALL IN ONE SHOW! This show is very family-friendly and we all had such a good time. Reza is an amazing performer and kept his audience entertained throughout the show. He was very personable and engaging. He talked to his audience throughout the performance and shared bits and pieces of his journey to becoming an illusionist. Our family would see this show again."
"A VERY ENJOYABLE SHOW! The acts are well done and the performance is very enjoyable. The audience is included in many of the acts. Adults and Kids get in the action of this illusionist. The show was perfectly designed to appeal to both adults and children. Everyone had a good time and we were still talking the next day trying to figure out "How did he do that?"
"SO FUN! Without a doubt, a highlight of our Branson trip. The young man is talented, and is also gifted with a dry sense of humor. We enjoyed ourselves, and my wife was even a part of the audience volunteers. This show is perfect for families."
REZA's newest show Edge of Illusion, is a ground-breaking, grand-scale production mingling interactive comedy and magic with cutting-edge, jaw-dropping mega illusions. If audience interaction enhances your entertainment experience, this show will certainly meet the mark. Perhaps REZA's greatest secret is his uncanny ability to communicate his performance art on such a personal level. Audience engagement adds the unexpected flair that feeds the Van Wert Live mantra that "Live Happens Once!"
No need to travel to Branson. Van Wert Live is bringing the good stuff to you! Tickets are available now at only $19 for this family-friendly treat to the senses. There's nothing like entertainment at home to give a greater return on family expenses.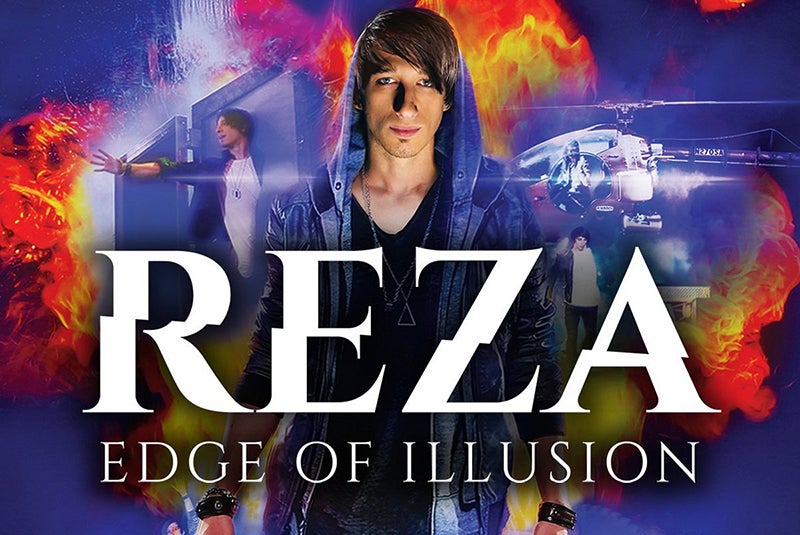 Niswonger Performing Arts Center
Ken & Marilyn Merkle and Roger & Kay Okuley Present
Edge of Illusion