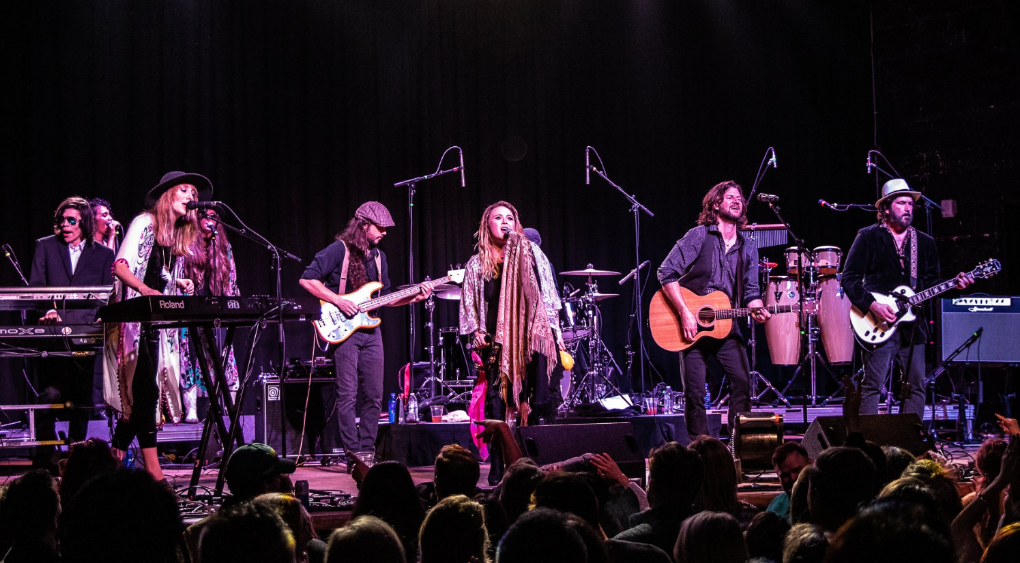 Jun 07 , 2021
There's A Rumour Going Around
by Tafi Stober
If you heard there were over one thousand people in Fountain Park for Feel Good Friday last week, you heard right! If you missed it, don't worry, the entertainment just keeps coming. This Friday night, Van Wert Live will bring you back to the 70s and 80s with Rumours, an epic Fleetwood Mac Tribute. Feel Good Friday concerts are free thanks to The Van Wert County Foundation. Here's some inside information on the band Rumours who will have the audience begging for more this Friday night!
Rumours call Atlanta, GA home and has built a solid fan base there and throughout the eastern United States. While traveling across the United States and selling out venues, the band continues to collect an even larger and devoted fan base on a national level. Selling out shows to standing room only crowds, fans have seen Rumours at venues including The Fillmore in Charlotte, NC, Daryl's House in Pawling, NY owned by music icon Daryl Hall, a weeklong residency at Epcot Center in Disney World, the 310 Room Austin City Limits and multiple Live Nation venues. Rumours has quickly become one of the most sought-after and highly regarded tribute bands in the genre.
Rumours lead singer, Mekenzie Jackson, in the part of Stevie Nicks was bewitched by the music of Fleetwood Mac at a young age and as it turns out she can duplicate the iconic singers voice so well that she and Rumours effortlessly transport audiences to the height of Fleetwood Mac's amazing success. The sensational voices of Rumours accomplished musicians recreate the signature harmonies; and along with their expert instrumentation, stage moves, and wardrobe, replicate those magical moments in music history that Fleetwood Mac fans cherish and can now relive again and again.
The passion for the music of Fleetwood Mac is what makes Rumours a success. The band's members have been influenced by and admirers of Fleetwood Mac for many years and strive to not only recreate their unmistakable, enchanting sound but to give it the honor it so rightly deserves. Fans attending Rumours concerts can feel the love!
Their setlist is packed with feel-good Fleetwood Mac favorites: The Chain, Dreams, Gold Dust Woman, Say You Love Me, Second-Hand News, I Don't Want To Know, Leather And Lace, Blue Letter, Hold Me, Over My Head, Rhiannon, You Make Loving Fun, Little Lies, Sara, Everywhere, Seven Wonders, Holiday Road, Think About Me, Silver Springs, Gypsy, Don't Stop, Go Your Own Way, Stop Draggin' My Heart Around, Edge of Seventeen.
Rumours is composed of band members Mekenzie Jackson (lead vocals), Doug Easterly (lead and backing vocals, guitar and percussion), Alex Thrift (lead guitar), Adrienne Cottrell (keyboards, lead and backing vocals), Nick Whitson (bass) and Daniel Morrison (drums).

Fountain Park is accessible all-day on Friday for placing lawn chairs. Downtown restaurants and the Fountain Park Concession will be open beginning at 5P. The Concert begins at 7:30P. Please note that a change of venue to the Niswonger Performing Arts Center will be communicated on Thursday evening if the weather report is unfavorable. Please stay tuned to our social media pages. Thank you for making Van Wert your live entertainment destination.